CLAW MACHINES ARE A DISTINCTIVE ADDITION TO PARTIES, BRAND ACTIVATION EVENTS, TRADE SHOWS OR OTHER ENTERTAINMENT EVENTS.
At Arcade Game Rental, claw catcher rental is quite popular.
Claw games are enjoyed by both children and adults and it adds quite a zing to the party or event.
Along with a range of arcade games, we also rent claw machines to our customers
Claw Catcher Games are Fun!
With some and a bit of technique, you can lay your hands on an exciting prize – probably a cute soft toy, a pair of cool glasses or chocolates. Just guide the claw over to your favorite prize and let it down, voila! If you are lucky, the prize will be clenched to the claw. Grab your prize when the machine drops it in the hole.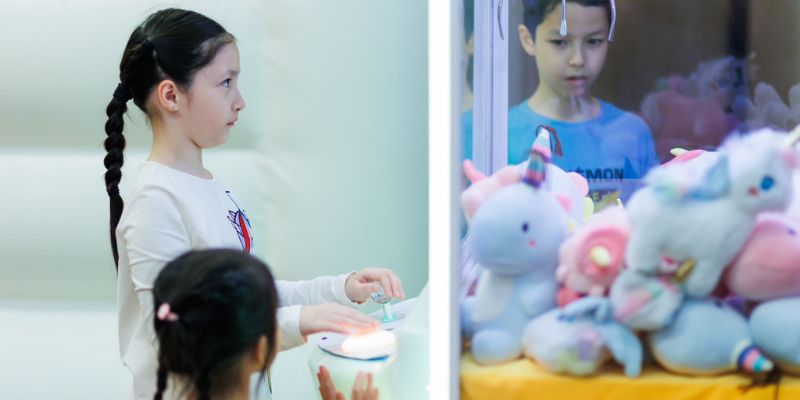 Every claw machine, can be exciting because all of us love winning. You can just double the excitement of a party or event when you have such exciting games to offer to your guests. All you need to do is add the choice of your gifts to the claw catcher game and let the people at your party enjoy. It is super entertaining and your party or event will soon become the talk of the town if you have an amusing game as such.
Where Can You Use the Claw Machine Games?
Claw machines can be a fun and excitement addition to different types of parties and events. At Arcade Game Rental claw catcher machines have been rented for:
Corporate Events
Promotional Road Shows
Fund Raising Events
Birthday Parties
Baby Shower
Entertainment Events
Bachelor Parties
Trade Shows
Branding Activation Events and more
How Can You Make Your Party Exciting Using a Claw Machine Rental?
Normally claw machines that are present in the gaming arcades offer prizes like small stuff toys, chocolates, balls and tickets. However, when you add a claw machine rental to your party, you can customize them in your own special way. For instance:
Birthday parties can add stuff according to the theme of the party by adding stuff toys, picture frames, wrist bands, funky goggles, etc.
Fundraising shows can have their own special tiny gifts promoting the cause that they are raising the fund for.
The brand activation parties can have products related to their brand. Pens, notebooks, card holders, mobile covers, etc. can be a part of the claw machine.
Bachelor parties can add unique gifts such as soap, chocolates, soda cans, customized goggles, etc.
There are so many cute gifts that you can add in a claw machine when you have one in your baby shower. From soft toys to hand towels and from customized pouches to chocolates – you just have to broaden your imagination to make the claw machine special.
How to Benefit from a Claw Machine Rental?

Claw machines can serve a dual purpose when it comes to using them in a business party. Not only does it serve for entertainment purpose, but dually acts as a medium of promotion for your company or business.
For corporate events or business promotions, you can use sticker branding wrap on the claw machine to promote your company and its products and services.
You just need to help us with the details of your advertisement and we will get it done for you in sticker form or wood fabrication – as per your requirement.
Contact Us for Claw Machine Rental Singapore

At Arcade Game Rental, we will supply you with the latest model of claw machine to rent for your event. Along with claw catcher rental, we also give on rent a variety of arcade games. You can visit our website for more details.
https://www.facebook.com/arcadegamerentalsg/