DBS Bank, the leading in asset management, consumer banking, equity, treasury and debt-fund raising has been serving Singaporeans for generations. Recently, DBS staff was in for a surprise; a games retreat was organized for them exclusively in association with us, Arcade Game Rental that planned to offer a memorable experience for the highly dedicated staff.
Here are some things you need to know about Electronic beer pong and Bishi Bashi:
Electronic Beer Pong
This is the most popular arcade game when it comes to corporate parties. It involves bouncing the balls into the mugs, trying to land one ball in each of the containers and successfully turning off the lights within the specified time. This is a very simple yet engaging game which anybody can play and enjoy. The game requires focus and speed which the bank staff excels in; just the perfect choice for the professionals! The DBS staff gladly played electronic beer pong arcade game, many of them multiple times and satisfied the child within themselves.
Our electronic beer pong game machine is in great demand, especially from bars and pubs however, of late, corporates are also hiring this machine simply because the engagement levels with this machine stand unparalleled!
Electronic Beer Pong

Electronic Beer Pong
Bishi Bashi
This game requires you to skillfully operate the buttons. Bishi Bashi can be played 1 Vs 1 or by a team of players. Intelligently handle your color (button color can be red, blue or green) and make smart moves. The game has more rules to follow but they are super easy to learn and play. The smart player wins the game. Bishi Bashi has been creating a buzz around the business tables and is being hired for corporate events to create a hyper around the party theme. So far it's been going well and we at Arcade Game Rental believe the game is going to stay here for the future, even after newer things surface. The simple yet competitive game is fun, thrilling and can entertain the guests easily.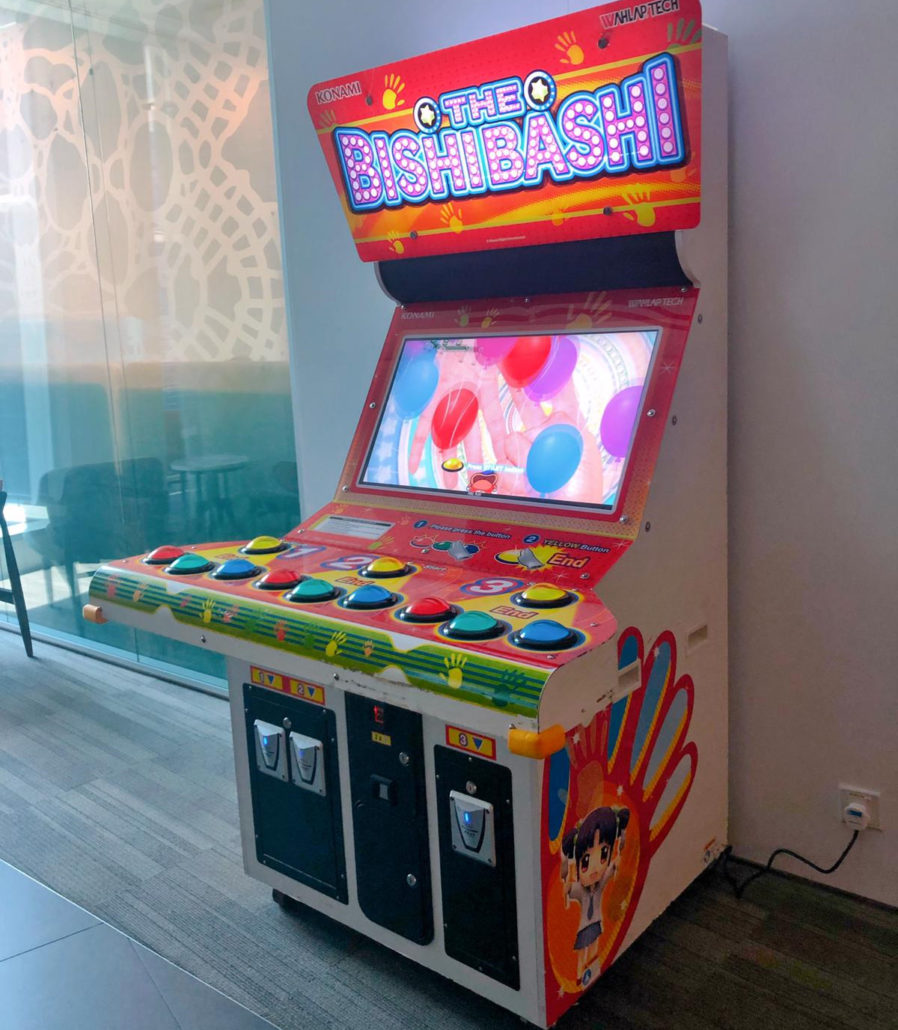 At DBS arcade game retreat, the staff enjoyed Bishi Bashi to the core. Almost everyone out there tried their hands at this amusing game and yes!
We pride ourselves on catering to the gaming event of the prestigious DBS Bank. Our goal is to build cordial relations with DBS and every other client, and serve them long-term.
Arcade Game Rental is synonymous with Gaming Parties
If you are organizing a game party for your staff or want to hire our arcade machines for a small party at your home, call us immediately; each client is valuable for us at Arcade Game Rental. While we had a wonderful experience working with DBS bank, we look forward to serve more clients in the future. Any industry, any niche, any sized event; we can cater.
Check us out HERE for our in-house arcade games for rental!
Follow us on facebook for more events' updates.
You Plan The Events. We'll Bring The Games!